HOW THE BUG BAG WORKS
The BUG BAG is a smart combination of an S-hook and a durable nylon tent. The tent protects your child's coat. A specifically designed nylon bead on the hook provides the necessary hermetical seal: a closed barrier for any head-lice.
Each coat is easily hung on the lower part of the S-hook, even if the coat-strap should be broken. The upper part of the S-hook can be hung on the existing coat-rack.
The BUG BAG is a child- and coat-friendly design. Often referred to as lice cape or lice tent. It is suitable for small and large coats. We have a choice of more than 30 color combinations.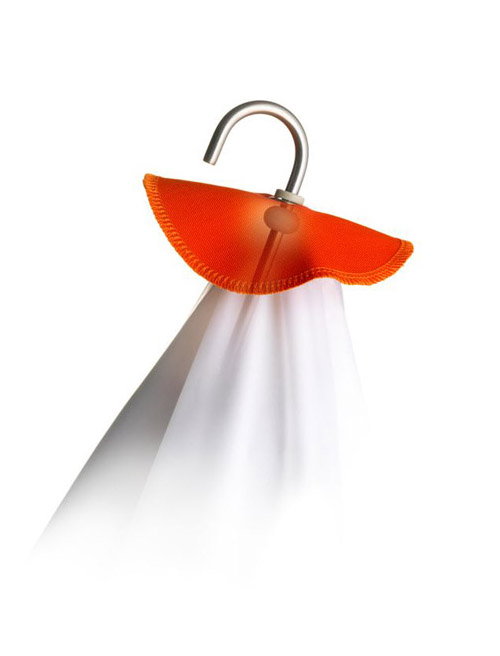 OPTIMAL HYGIENE
The BUG BAG is a smart device to prevent the spreading of head-lice. The BUG BAG is indispensable to keep the impact of an outbreak of head-lice as small as possible.
Crawling from one coat collar to the next, head-lice have ample time to spread across a full coat-rack and from there to the coat owners' scalps.
The BUG BAG puts an end to this migration.
Prevention helps also to avoid unnecessary combing, and, more importantly, to reduce the use of chemicals.
A big difference with a lice bag or bag is that, with the BUG BAG, a jacket hangs neatly in the wardrobe. Especially in bad weather much better for jacket and child
SERVICE AND WARRANTY
We constantly strive to offer and deliver the best material. All sub-parts are produced according to European standards. We have direct contact with all our suppliers and know that your BUG BAG is of the highest quality.
The BUG BAG has a guaranty of two years.
We supply a free replacement should there be a possible fault in production. Should the tent break, due to rough handling (pulling too hard), it can be ordered separately.
A large number of schools have had the same BUG BAG in use for over 10 years.